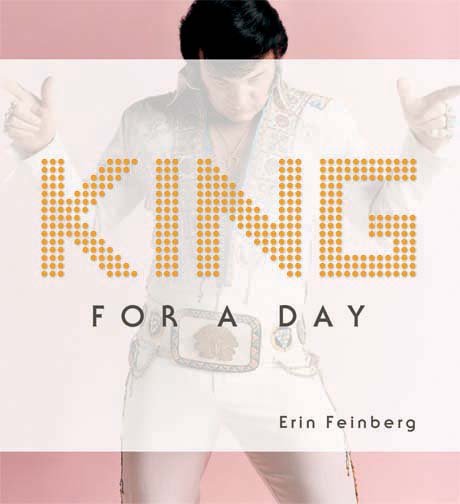 Decades after Elvis Presley "left the building," for the last time, his music and American-icon prominence live on through his legions of past, present, and future fans.

Among those devotees who stand out as brightly as Elvis' studded jumpsuits are the tribute artists.

Through a deeply personal photographic study, Erin Feinberg focuses on the diverse range of culture, fashion, and persona that Elvis impersonators embrace. By means of one-on-one studio sessions and interviews, King for a Day captures the individuals behind the Elvis façade, coaxing from them their

personal connection to Elvis, how they came to this form of entertainment, and how this pursuit completes them.  Within these pages you will see people from all walks of life, all with a desire to embody a bit of Elvis' spirit. Once these diehard fans slide into the famous black leather ensemble or The Aloha jumpsuit, they're escaping into another world, the everlasting, larger-than-life world of Elvis.

Not only is David Lee featured in the the book, as you can see, David Lee was chosen by the publisher for the cover.

Music | Photography

September 2007

Hardcover, $40 USD

10½ x 11½, 192 pages

ISBN: 1-933108-14-2

ISBN13: 978-1-933108-14-8

Rights: World